Martine Jullian, Université de Grenoble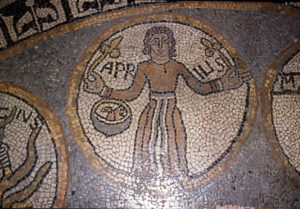 The cathedral of Aosta in Piedmont has a mosaic pavement, situated in the manner of a carpet in front of the main altar. In the centre, a personification of the Year appears first, surrounded by a circular ring in which the twelve months are represented, symbolised by the characteristic human activities of each. This first circular carpet is placed on a second rectangular one, in the corners of which the Rivers of Paradise are inserted. Despite the reduced number of iconographic motifs (the Signs of the Zodiac, for example, are absent), the work is presented as a mappa mundi, but more synthetic, or even syncretic, than encyclopaedic, unlike certain images in various manuscripts or even the Girona Creation Carpet.
It is first of all the evocation of human activities throughout the year in their daily banality. But this daily banality is inscribed in a space-time: cosmic space, in its relationship between earth and sky, and the cyclical time defined by the round of months. Through the reference to Paradise, eschatological thought is not excluded. Finally, through both iconographic and formal choices, the theological dimension is underlying without being explicitly named: for behind these figurations, as allusive as they may be for some, and if at first sight man occupies a predominant place, the divine presence is symbolically profiled, God being in the end the great organiser of the world, the master of space and time.